This has been a long road so far, but the rewards are starting to show up. While there are still lots of problems to solve, bugs in the code, this is the first release that is really targeted for users to test, and we are proud of it, and hope you enjoy it!. Biggest improvements are:
stage editor (Linux only for now, we'll ship the Windows version later today, as we need to find out all dll files that are needed to distribute).
teleport between maps using holes/stairs, allowing less memory usage thus making possible the DS port.
Nintendo DS port – still a bit slow, since our code is filled with debug information.
Multiple NPC support – now they are created by the editor, so we can easily add more; for now we ship with a rock metall, a jet shield and Ape bot as boss
Started the basis for NPC behavior – they can do different things now.
Sound support – we have sound effects and music in Linux and Windows, and experimental sound effects in PS2.
Some new sprites by Rodrigo Hahn.
A new, big stage, with improved tileset for tests.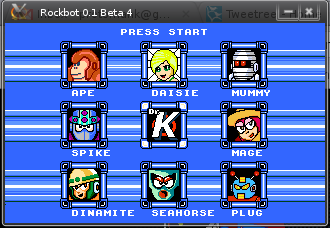 Known issues are:
moving npcs, when killed leave a trail of background in the wrong position.
sound in the PS2 kind of stop the game execution, you can disable it with the triangle button to have a smooth playing experience.
DS version is slow due to debugging enabled.
some NPCs show strange behavior or wrong graphics – this part will be re-built in beta5.
Well, that is it, enought talk, here are the binaries: